Manchu in Global History: A Research Language for Qing Historians
September 19 @ 9:00 am

-

September 22 @ 1:00 pm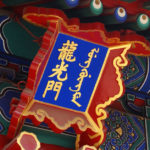 International Symposium:
Manchu in Global History:
A Research Language for Qing Historians
Keynote Lecture:
Manchu Sources and the Problem of Translation
Manchu in Global History:
A Research Language for Qing Historians
Time: September 19-22, 2017
Place: KWZ 1.601, University of Göttingen
Organisers:
Julia C. Schneider (Department for East Asian Studies, University of Göttingen)
Katja Pessl (Centre for Modern East Asian Studies, University of Göttingen)
As an 'ethnic minority' with origins in the semi-nomadic civilisations of northeast Asia(Manchuria), the Manchus successfully ruled Han-dominated China and extended the territory of the "Great Qing" (1636/1644-1912) far into Inner Asia, including Mongolia, Tibet, and East Turkestan (Xinjiang). Thereby, they created a wide corridor, connecting many different peoples and cultures under their rule and beyond.
The University of Göttingen (Department of East Asian Studies & Centre for Modern East Asian Studies) will be hosting the workshop Manchu in Global History: A Research Language for Qing Historians. We invite paper proposals from prospective speakers who offer specific case studies as well as broader studies on Qing and Manchu history.

Manchu Sources and the Problem of Translation
Prof. Dr. Mark Elliott (Harvard University)
September 20, 2017, 4-6 pm (c.t.)
KWZ, Room 1.601/ 0.602
The historian who would use Manchu for research on the Qing period typically faces three main difficulties: learning the language, finding sources, understanding the document. To this should be added a fourth challenge, that of translation: How to capture both the sense and the style of the text in another language? Should one even try? How best to transfer key concepts (e.g., gurun, doro, aha) out of the original Manchu? What limits do our dictionaries impose upon us? Such questions confront any scholar working across languages, of course. As Manchu gradually becomes a regular working language for Qing historians everywhere, it is worth pausing to think about the implications, practical as well as philosophical, they pose for us.
Prof. Dr. Mark Elliott is Mark Schwartz Professor of Chinese and Inner Asian History at Harvard University.  He is one of the most well-known historians of (New) Qing history and has published influential works such as Emperor Qianlong: Son of Heaven, Man of the World (2009), also available in Korean (2012) and Chinese (2014), The Manchu Way: The Eight Banners and Ethnic Identity in Late Imperial China (2001), etc..
Click here for more details about the manchu workshop
Image: David Baron Folgen,Sign above gate, CC BY-SA 2.0, https://flic.kr/p/33JdAz