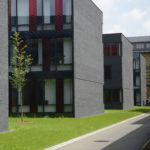 Contact CeMEAS
CeMEAS is located in the newly built Center for the Humanities (KWZ), main building, ground floor.
Katja Pessl, M.A.
Center for Modern East Asian Studies
Georg-August-Universität Göttingen
Heinrich-Düker-Weg 14
37073 Göttingen
Germany
Phone: +49 551 39-21280
Fax: +49 551 39-27048
cemeas@uni-goettingen.de
Arriving by plane and train
The Frankfurt airport (FRA) is the nearest major airport from Göttingen. From there you can take an intercity express train directly to Göttingen, which takes about 2h. The trains from Frankfurt to Göttingen run every hour, direct connections run every two hours. Regarding timetables for your train connection please check the Website of Deutsche Bahn.
From Göttingen Train Station to CeMEAS
Turn left and walk along Berliner Straße (the road in front of the train station)
Continue along Berliner Straße as far as the big crossroad
Keep straight on and continue along Nikolausberger Weg as far as the next crossroad (Nikolausberger Weg – Goßlerstraße)
Turn left and continue along Goßlerstraße as far as the car park
Before the car park turn right – Center for Humanities is right in front of you